Children's Ballroom Dance Group Class Ages 5 – 12. Every Sunday from 3:00pm – 3:50pm.
Teen's Ballroom Dance Group Class Ages 13 – 18. Every Saturday from 11:45pm – 12:45pm.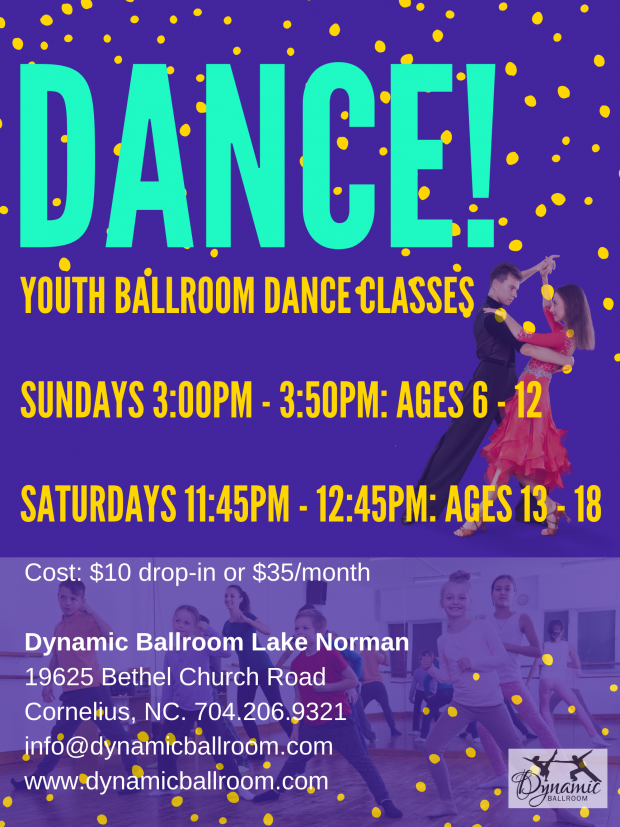 First class is always free to check it out any week. No registration necessary. First class is free, and after that $10/class or $35/month, paid at the first of the month. No prior registration necessary, walk-ins are welcome.
No dance partner necessary.
Learn ballroom dance choreography and technique for both Standard (think waltz, quickstep, tango) and Latin (cha cha, samba, swing, rumba, jive, salsa). Classes will be in an open format with little to no partner work.
Attire is comfortable shoes with a soft sole, or bare foot, any comfortable clothing that your child can move well in.
Parents may stay and watch class, or drop off.
Taught by Christine. Questions? Contact us at 704-206-9321 or [email protected]