INTERNATIONAL CHA CHA
The Cha Cha is a latin dance originating in Cuba, where it developed from the danzon. Cha Cha is a quick, flirty, dance with lots of fast feet movements and a playful interaction between partners. In the International style, dancers step onto a straight leg in the basic movements.
.
---
INTERNATIONAL SAMBA
International Samba has its origins in Brazil at the beginning of the 20th century. The ballroom version of samba is a lively, rhythmical dance with elements from Brazilian samba, but varies greatly from the original form of the dance. High energy with lots of hip-shaking and fluid partner work that travels around the dance floor.
.
---
INTERNATIONAL RUMBA
Rumba had it's origins in Cuba, originating from the bolero-son. The international ballroom rumba is a slow and sensual dance emphasizing fluid movements and electric connection between partners.
---
INTERNATIONAL JIVE
The jive originated in the United States, from the styles of East Coast Swing and Jitterbug, but with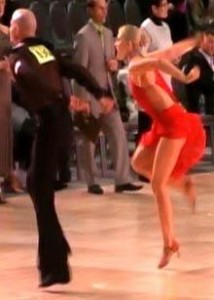 highly syncopated rhythms. It is an incredibly high-energy, quick dance focusing on lots of high knees, leg power and fun.
.
---
INTERNATIONAL PAS
O DOBLE
Paso Doble (literal meaning in Spanish: double-step) is a traditional couple's dance from Spain. It is danced to the type of music typically played in bullfights during the bullfighters' entrance to the ring or during the passes just before the kill. The International ballroom Paso Doble stems from this style and travels around the floor with large, powerful, fluid movements.
---
.
.
Ref: www.bbc.co.uk/strictlycomedancing