The Dynamic Divas Latin Formation Team was founded over 6 years ago, and since then the group has just continued to grow and grow ! We had over 25 ladies in the most recent Spring 2022 season, many who were brand new to dancing and ballroom and we couldn't be prouder of them!
Check out our medley of Cha Cha and Rumba performed at our spring showcase May 1, 2022: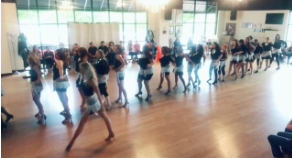 View our Show Me How You Burlesque routine from November, 2021: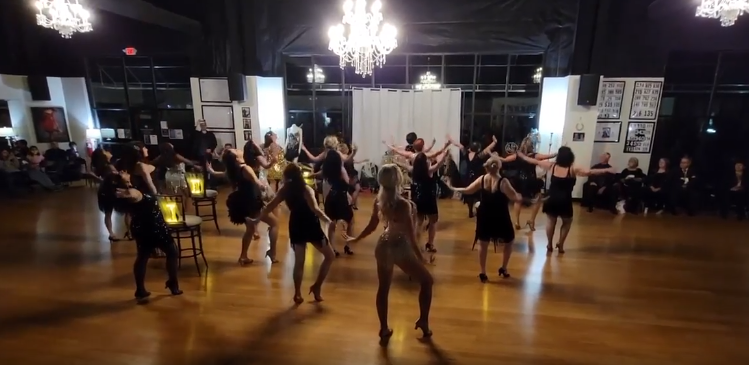 Divas have two sessions each year, to prepare for Fall Showcase and Spring Showcase. New dancers are always welcome to join. No experience is necessary. Practices include technique work and drills on top of learning and perfecting the show choreography.
Interested in being a Dynamic Diva? Join us for a $10 trial day to kick off our Fall Session on Sunday, August 28th, 2022 at 5:00PM. Walk-ins welcome, registration for the session begins after August 27. Can't make the trial day? Join us the following Sunday, September 4 or 11 at 6:00PM. Last week to join is September 11.
We will be splitting the group into two group performances:
Dynamic Divas I: For our dancers who are new to dance, new to ballroom or first-time performers!
Dynamic Divas II: For our more seasoned Divas, and dancers with at least one year ballroom dance experience.
2022 Schedule:
Sunday, August 28: 5:00PM $10 Trial Day
Sundays, September 4 – November 6: 6:00PM Divas I Class. 7:00PM Divas II Class.
Saturday, November 12: 1:00PM Dress Rehearsal
Sunday, November 13: Fall Showcase Performances
Cost: $225 entire session, including showcase and extra practices. $400 to dance in both Divas I & II.