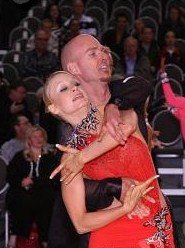 Dynamic Ballroom is experienced and trained in coaching and competing to the highest level of DanceSport Competition in Ballroom Standard, Latin, Smooth, Rhythm, and Social/Club Dances.
You may chose to compete with a fellow student as an "Amateur" couple, or you may compete with your dance instructor in the "Pro-Am" category.
Brand new dancers can enter the "Newcomer" division and work your way up.
All ages have separate events, from Children's to Seniors.
Inquire in the studio today and join us for our next competition. Challenge yourself!
---
Upcoming Highlighted Competitions:
Heritage Classic Competition
February 26th – March 2nd, 2019
Asheville, NC
Charlotte Star Ball.
March 23rd – 24th, 2019.
Charlotte, NC.
Blackpool Dance Festival.
May 23rd – 31st, 2019.
Blackpool, England.
Full Competition Calendars:
World DanceSport Federation Calendar 
here
 .
USA DANCE Calendar 
here
 .
National Dance Council of America Calendar 
here
 .
Training Tip
Schedule time for " run-throughs " of your competitive dances with your coach up to a month or more before the competition.
Each competitive song lasts for 1 minute 30 seconds. Practice increasing your stamina by running through your routines, full speed, for at least 1 min 45 sec each. When the song ends 'early' at the competition, you'll feel great!
Continue to work on details of arm and hand positioning, footwork, hip action, frame, etc, right up to the competition day. Every small movement can make a difference in your scoring.
Attend intensive workshops to concentrate on technique and put good habits into your muscle memory, and to increase fitness level.
Watch for more training tips in future emails. Good luck out there!